Do you need to process sand, gravel, minerals, rock, or other aggregate products and have not yet purchased or leased crushing equipment? There's no question—you need to work with a capable and professional material handling equipment design and engineering company dedicated to selling, renting, and installing the best new crushers for your needs.
After all, our most recent Kemper Equipment success story illustrates what happens when an aggregate producer implements the wrong system design and material handling equipment!
However, if you're new to the aggregate processing industry, you probably have a lot of questions about rock crushers. As foundational material handling equipment in all plants, crushers need to coordinate seamlessly with screens, conveyor systems, and washing equipment.
Today we're breaking down everything you need to know about crushers to help you understand the questions you should ask as you search for the right material handling equipment for your operations.
Stages of Rock Crushing: Crushing Stations
It is common to use multiple crusher types within a project and set them up as stations in a circuit format to perform the necessary material reduction work. In many cases, primary, secondary, and tertiary, and quaternary stations are installed to reduce the rock to the desired size, shape, and consistency.
Of course, not all projects require all the stations or stages. Sometimes, primary crushing alone may offer enough reduction for your needs.
For instance, if the final size of your product only needs to be between 4 inches and 6 inches, a primary jaw or impact crusher can accomplish your goals. However, you will likely require a much finer product, and that means incorporating up to three—or even four—stations with a variety of crusher types.
1. Primary Crushing
As the first stage in a crushing circuit following extraction from a mine site, (or in the case of recycled asphalt production, delivery to the RAP processing plant via truck transport), primary crushing reduces material to a size and shape that can be handled by the secondary crusher.
Typically, the minimum setting on most primary crushers will be about 4 to 6 inches, as noted above. Compression-style jaw, cone, impact crushers, and gyratory crushers are most often appropriate as primary crushing equipment types, though there can be overlap between primary and secondary crushers as far as suitable types.
2. Secondary Crushing
In secondary crushing, reduction ratios become an essential consideration. Knowing just how fine you need your final output to be, along with the feed requirements of your tertiary or final reduction crushing station, will help you determine how much reduction needs to take place within this stage.
Cone crushers are often placed within the secondary crushing station because they are versatile in terms of feed, closed side setting, speed, and throw. With cone crushers, though, it is essential to operate them at consistent choked settings to keep productivity up.
3. Tertiary/Quaternary/Final Reduction Crushing
The goal of the tertiary (third), quaternary (fourth) or final reduction stage of the crushing process is to size and shape rock or other material into a marketable product. Again, there may be overlap between stages in terms of which crusher styles work best.
Cone crushers, vertical shaft impactors (VSIs), horizontal impact crushers, or even high-pressure grinding roll crushers may be used in the final reduction position.
Types of Rock Determine the Crushers You Need
Sandstone, limestone, gravel, and granite are arguably the most common aggregates used in the construction industry today, but these rocks have very different hardness and abrasiveness characteristics.
The type of rock you plan to focus on processing in your operation will dictate the types of rock crushers you'll need to include in your crushing circuit.
The more you know about the type of rock you wish to crush and what its end-use will be, the easier it is to choose the best equipment to achieve your project goals.
So, How Many Types of Rock Crushers Are There?
The question "how many types of rock crushers are there?" can be answered in a variety of ways depending on what the person asking is trying to learn about rock, sand, gravel, or mineral processing.
The answer might be three to four if you're talking about setting up stations in a complete rock crushing plant. Those are the primary, secondary, and tertiary/quaternary/final reduction rock crushers, which we covered above.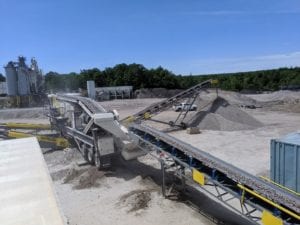 Of course, there are also different styles of rock crushers. Compression-style jaw and cone crushers, for example, fit into the various stations in a crushing circuit (depending on factors like the sizes, varieties, and hardness of the rock you need to crush, as well as the necessary output).
The number of crusher types in terms of style and configuration can be more challenging to quantify, as there are lots of ways to customize rock crushers. However, you'll find four basic designs—cone, jaw, gyratory, and impact crushers—operating within many crushing plants.
Jaw Crushers
In compression crushing, jaw crushers tend to be more of a blunt instrument compared to cone crushers, which is why they're often used in the primary rock crushing circuit stage.
Jaw crushers are also known as "rock breakers" and are used to break up larger, harder materials into more manageable pieces. They tend to do well with many different types of materials and don't display as much wear and tear as impact-style rock crushers. They also produce minimal fine materials and dust, though the finished product with this type of rock crusher almost always requires secondary crushing.
To learn more about jaw crushers, you'll want to catch our previous blog post all about these tough pieces of material handling equipment and the most common questions operators have about jaw crushers.
Gyratory Crushers
Gyratory crushers feature a conical head and concave surface (often lined with manganese steel) and break apart material by compression through what is known as eccentric movement.
Like jaw crushers, gyratory crushers are often utilized in primary crushing stations, though they may sometimes be used as secondary crushers, as well.
Cone Crushers
Similar to jaw and gyratory crushers, cone crushers work by compression, which means they reduce materials by squeezing them until they break apart.
There are also impact-style rock crushers—namely HSI and VSI equipment (more on those in a moment).
Cone crushers are built with a rotating mantle in a concave bowl lined with manganese—this is similar to gyratory crushers, but the crushing chamber in cone crushers is not as steeply angled.
Cone crushers can accept medium-hard to very hard and abrasive feeds that might be dry or wet, though not sticky (whereas gyratory crushers are better at handling softer, dryer feeds). Their output will be a relatively cubical product, with a reduction ratio of about 6-to-1 through 4-to-1.
Understanding the operating principle of cone crushing equipment is best illustrated in a visual format—check out this demonstration video from our Kemper Equipment YouTube channel.
Impact Crushers – VSIs and HSIs
Impact-style crushers include VSIs, as well as horizontal shaft impactors (HSIs), and are best used with less abrasive rock types, like limestone. These types of machines break apart material by the impacting forces of certain wear parts known as blow bars and impact plates or toggles.
Some operations also use impact-style crushers after they have already used a different type of rock crusher that produces a more elongated stone. This helps further shape the crushed material into a finer consistency with a more cubical nature.
Impact crushers tend to be less expensive than compression crushers (aka cone and jaw crushers, which we already covered) and have a higher reduction ratio. They can also break sedimentary deposit-type rocks—limestone and similar—along natural lines, which rounds off sharp angles and weak edges. This can produce a result that is more sand-like in nature.
Drawbacks of impact crushers include their tendency to produce an excess of fine materials if used with softer rocks. Impact rock crushers can also require frequent part changes and can create a large amount of dust that can be an issue on some worksites.
Portable vs. Stationary Crushing Plants
Depending on the length of your project and how mobile your crushing equipment needs to be, you can choose either stationary or portable/modular crushing plants.
Stationary plants have long been preferred because they feature a higher capacity and efficiency and lower production costs with easier maintenance. They also have historically featured a lower energy cost if you have on-site electricity, and no additional equipment is needed to move them from place to place.
The tides are beginning to change, though, and portable equipment has been technologically advancing to the point that it may be able to replace stationary plants in the future.
It's true that portable material handling equipment already offers unmatched production flexibility. For instance, if you need to move your crushing plant more than once a year to multiple job sites, you are likely better off investing in portable equipment.
These self-contained plants are better suited to smaller projects and can be moved from project to project as necessary. They are often still not quite as efficient and have less capacity than stationary plants, but they can be more cost-effective in the long run if you have multiple projects in different areas.
Kemper Equipment Has the Crushers You Need for Your Operation
Still have questions about crushers or any other aspects of aggregate processing and material handling?
Here at Kemper Equipment, we offer the best performing crushing equipment that will work hard to make any finished products you plan to produce—including sand, gravel, fertilizer, specialty mineral products, recycled asphalt, salt, coal, and slag—efficiently and affordably. Contact us today to discover how we can provide a custom-designed crushing circuit or retrofit a new rock crusher into your existing operation.