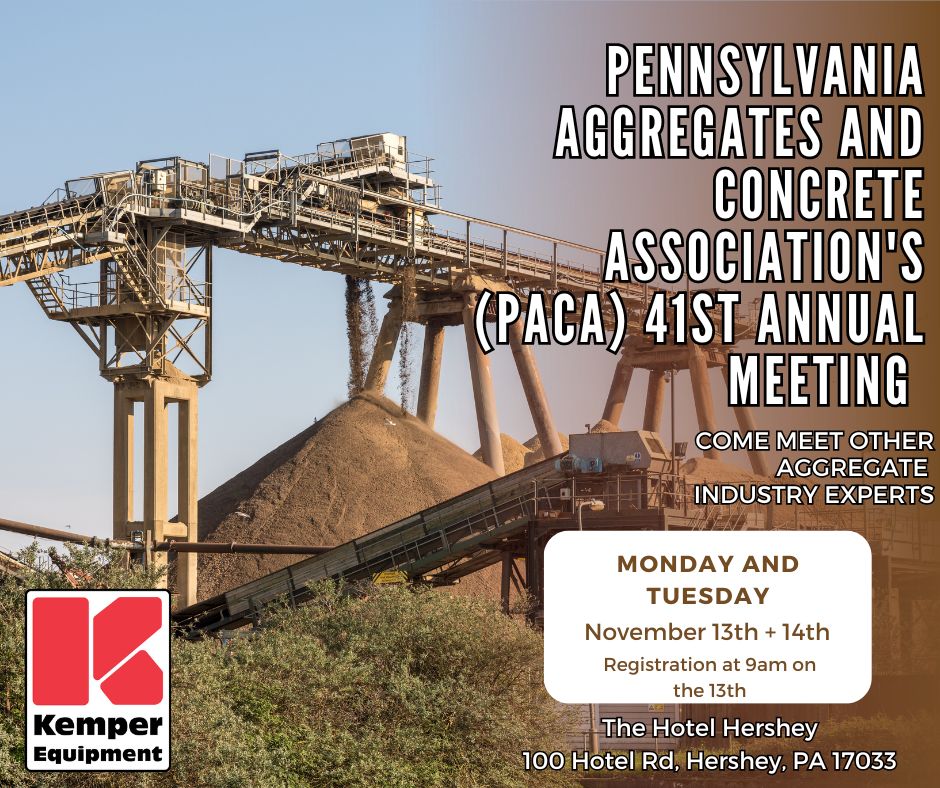 Get ready to mark your calendars! The Pennsylvania Aggregates and Concrete Association's (PACA) 41st Annual Meeting is coming up in November 2023. The PACA Aggregate Event 2023 is a premier gathering in the state that brings together the crème de la crème of professionals and companies, including our experts from right here at Kemper Equipment!
The Where and When: Conference Details
Mark these dates on your calendar and prepare for an experience that promises to be both enlightening and exciting. The PACA Aggregate Event 2023 will take place on Monday, November 13th, and Tuesday, November 14th, 2023, at the picturesque Hotel Hershey in Hershey, PA. Starting with registration at 9 AM on November 13th, the opening session kicks off at 10 AM. The event is structured to provide a platform for industry professionals to come together and engage in insightful discussions and activities related to their fields.
This is not just a conference! It's your chance to be a part of the larger conversation shaping the future of the aggregate industry. Imagine yourself in the beautiful setting of Hotel Hershey, mingling with industry leaders, gaining valuable insights, and participating in discussions that could redefine your perspective on the industry.
So, pack your bags, bring your ideas and questions, and get ready to step into a space brimming with innovation, knowledge, and opportunities. Your attendance at the 41st PACA Annual Meeting could be the catalyst that propels your career forward. Get ready for two days of learning, networking, and inspiration!
Uniting the Best in the Business
This highly anticipated PACA annual event is a testament to the principle of 'uniting the best in the business.' The PACA Aggregate Event 2023 is a gathering for the greatest minds in the industry, but it's also a platform where professionals in the aggregate industry convene to do much more than just catch up. It's a space for networking where industry leaders and upcoming talents can form new connections, strengthen existing partnerships, and explore opportunities for collaboration. As they interact, they get to know each other better, understand different perspectives, and potentially lay the groundwork for future joint ventures that could revolutionize the industry.
But networking is just one part of it. The meeting is also a stage for knowledge exchange, where the best in the business share their experiences, insights, and lessons learned. Through presentations, panel discussions, and informal conversations, they delve into the latest advancements in the aggregate industry, dissecting trends, technologies, and techniques that are shaping the field. This knowledge exchange is vital in driving innovation, allowing professionals to learn from each other's successes and failures. With this shared wisdom, they can avoid past mistakes, replicate successful strategies, and develop fresh ideas that push the boundaries of what's possible in the aggregate industry.
Meet the Keynote Speakers: Yogi Roth and Anirban Basu
The PACA Aggregate Event 2023 annual meeting will be elevated by two extraordinary keynote speakers: Yogi Roth and Anirban Basu. Their expertise and unique perspectives promise to provide attendees with a wealth of knowledge and inspiration.
Yogi Roth is no stranger to the spotlight. His multifaceted career spans coaching, sportscasting, filmmaking, and authorship. Known for his deep insights into masculinity in sports, Roth's keynotes are a journey into the heart of human potential. His knack for storytelling extends beyond entertainment, as it serves as a tool to inspire individuals and organizations to strive for greatness. Roth's speeches are experiences that challenge listeners to question their limitations and dare to dream big. His presence at the meeting will undoubtedly motivate attendees to impact their respective fields significantly.
On the other side of the spectrum, we have Anirban Basu, a titan in economics. As the founder of Sage Policy Group, Basu has made a name for himself through his understanding of economics and a unique sense of humor that makes complex concepts accessible and engaging. As Chief Economist for various organizations and a significant contributor to academia, he brings a depth of knowledge that is as vast as it is valuable. Basu has a gift for making economics relatable and interesting, turning what could be a dry topic into a fascinating exploration of trends and forces shaping our world. His keynote will provide attendees with a fresh perspective on the economic landscape and its implications for the aggregate industry.
Together, Roth and Basu represent a blend of inspiration and insight, promising an enriching experience for all attendees of the 2023 PACA annual event.
Are You Ready to Attend?
The PACA 41st Annual Meeting is a must-attend event for anyone related to the aggregate industry. No matter how you are involved with Pennsylvania aggregates, the PACA Aggregate Event 2023 provides an opportunity to strengthen your ties within the PACA community. Mark your calendars and brace yourself for two days of insightful discussions, networking opportunities, and a chance to stand shoulder-to-shoulder with the best in the business.