At Kemper Equipment, we listen, consult, create, and solve problems for our valued clients in the aggregate processing and material handling industries.
Today's blog post showcases one of our recent success cases to show you what improved production actually looks like in practice. Kemper recently custom-designed a new plant for a construction aggregate producer to remove operational bottlenecks and ultimately increase production and profitability. This is the story.
About the Client and Their Main Challenge
While Kemper designs systems for clients across the United States—and even worldwide—this particular operational challenge came to us from a construction aggregate producer right here in our home state of Pennsylvania.
The problem was that the client's existing system design—though just two years old—was not meeting production goals based on both product type (specifically 57s and 8s) and tonnage per hour.
How Long Had This Been a Problem, and What Else Had They Tried?
While our client had purchased and installed the existing system just 2 years earlier, it was not designed well in terms of balancing capacity. They were sold both the wrong type of equipment and the wrong system design, ultimately not set up to reach their production goals. There were many bottlenecks throughout the plant and only a small surge system.
The producer had tried to fix problems by supplementing the system with track-mounted equipment rentals. This was not a sustainable solution, as it added too much cost to an already hefty investment.
What Was Particularly Unique About This Client's Challenges?
Obviously, our customer was hesitant about investing more money into the location and the existing plant because they had just invested in a system that wasn't working as promised. While the production challenges they were facing were not particularly unique, the fact that their existing system was not old or outdated was somewhat unusual.
How Did Kemper Overcome the Challenges for the Client?
After running almost 2 years with the incorrect plant and configuration, the customer was very anxious to have a new system up and running to make up for lost production. Kemper got to work quickly, installing a NEW 2 phase plant.
Installation of a Custom Kemper Equipment-Designed System
The unique plant design we created for our client utilized Terex MPS crushing and screening equipment, a Kemper custom 80-ton live dump hopper station, surge tunnel station, and over two dozen conveyors.
Primary Station
Terex Cedarapids 6203 modular High G-Force Screen Plant
Kemper-manufactured 80-ton Live Dump Hopper Station
Secondary & Tertiary Crushing and Screening Station
Two Terex Cedarapids Cone Plants
Two Terex Cedarapids Screen Plants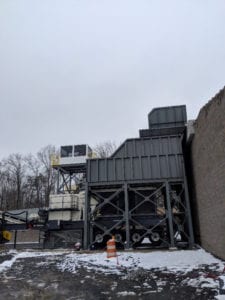 Additionally, more than two dozen Kemper Equipment conveyors and a custom Kemper-manufactured Surge Tunnel station help to move and manage the product before it makes its way out of the plant.
Through production guarantees and testing, Kemper Equipment provided a NEW 2-phase plant that delivered results.
Based on testing within the first few months of operation, the new primary station in duration testing produced over 22% over their goal, producing 730 tons per hour. Production of 57s and combined products of 8s, ¼-inch, and sand products was 19% over their goal, making 416 tons per hour.
Ultimately, understanding the need of our customer and providing an innovative system using our decades of design knowledge delivered a new system that achieved and surpassed production goals.
Not only did we deliver on design, but Kemper also delivered on the schedule. From start to finish on this project, Kemper exceeded our client's expectations. Our bid was awarded in November 2018, and the primary station was up and live in February 2019. The entire new operation was online and making product on March 15, 2019.
Within just 4 months, the new plant was doing what it was supposed to do, providing a saleable and profitable product for the customer.
Results and Takeaways
Our successful system design for this construction aggregate producer recrushes 57s to make more 8s and ¼-inch product when necessary, based on demand. Custom-designed Kemper chutes allow for product blending as well.
Automation takes a primary role in saving operator costs in this system with remote operation of the Terex MPS equipment. A ground operator can use a remote to operate both the secondary and tertiary systems, allowing them the flexibility to move throughout the plant and multi-task instead of sitting in an operator's booth to observe.
Our success in this project goes to show how Kemper Equipment exemplifies flexibility and future thinking. We not only look at the current needs of every customer we serve, but also consider the future of every operation by providing flexibility in plant design.
This type of project is not unusual for Kemper—quite the contrary—it's what we do best. Through collaboration with our expert team and the customer, we come up with the best way to solve production challenges every time with every client. Need help resolving challenges in your aggregate or mineral processing operation? Get in touch with Kemper today to start the conversation.