The first known conveyor system was built in 1795, consisting of leather belts on wooden beds, which were hand cranked by pulleys. Throughout the years, the conveyor system evolved from wood to plastic surfaces and engines to power the system instead of by hand.
What has remained the same with conveyor systems is that they have always had one basic task: transport goods from one place to another. The very first conveyor system was used to transport farmers' goods onto ships. As the demand and need grew for conveyor systems, different types were built to adapt.
What are Conveyor Systems?
Conveyor systems are a combination of mechanical equipment that transfers materials from one point to another. They are very popular in construction, material handling, and packaging industries. The huge advantage of conveyor systems is their ability to transport heavy materials of all kinds in bulk.
How Do Conveyor Systems Work?
Conveyor systems—or belts—essentially work by using pulleys that loop continuously, allowing the material to pass along them. The pulleys are powered by never-ending movement from a collection of hooks, gears, buckets, belts, and rollers. The rollers act as support for the conveyor systems, preventing them from bending in the middle while moving heavy materials. Belt conveyors are most commonly used for transporting material; while roller conveyors are typically used for accumulating products. It's important to take into consideration the size and weight of the material being transported to decide which conveyor is best for your project.
Types of Conveyor Systems
Radial stackers
Overland conveyors
Transfer conveyors
Railcar loading and unloading conveyors
Barge loading and unloading conveyors
Pit conveyors
While there are many other kinds of conveyor systems built for a wide range of industries, these are the ones that we specifically deal with.
Radial Stackers

Radial stacking conveyors are a cost-effective solution for the stockpiling of mining and other materials. The conveyor allows materials to be placed in stockpiles wherever you need them and processed quickly. Radial stackers can also be used within a series of stackers to get the job done quicker than conventional fixed conveyors.
Standard ranges for radial stackers cover about 4 belt widths, each of which have five different lengths. These standard radial stacking conveyors have a range of capacity from 200 to 1,200 tons per hour.
Overland Conveyors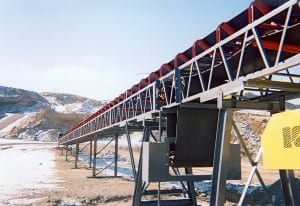 Typically, overland conveyors are about 30 to 84 inches wide and have the ability to take on 15,000 tons per hour. Overland conveyors are exactly what they sound like—conveyors that are above the ground and elevated, covering large distances. Longer overland conveyors have to take into account for deceleration and acceleration from going up and down hills. This must be accounted for when selecting the mechanical and electrical systems, as well as the brakes and drives.
Transfer Conveyors
Specially designed for a multitude of tasks, transfer conveyors are built to both elevate and decline to be able to transfer materials. They include a transfer conveyor belt that allows the system to adjust the height, depending on the incline. Transfer conveyor belts allow the material to transfer from one conveyor to another using dividers and separators that guide it along its path. They tend to work great with materials that do not have a flat bottom, and can save you space when you need to transfer materials or parts on a conveyor system that needs a 90-degree angle turn.
Portable Conveyors
Portable conveyors are thriving in the construction industry. These types of conveyors are anticipated to continue to grow in usage in North America, Europe, and Asia in the near future. Portable conveyors are mostly rented for certain projects where the equipment needs to be transported, or if it is just a short-term project. Portable sections of conveyors are usually used for loading packages on the back of an over-the-road truck.
Railcar Conveyor Systems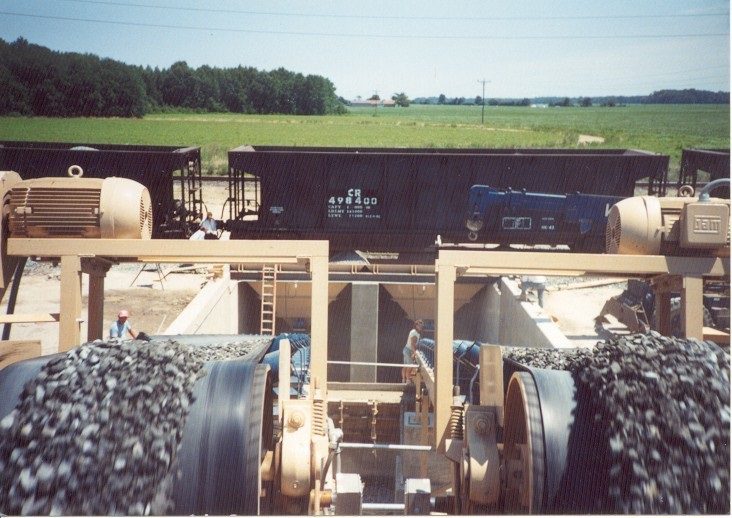 Railcar conveyor systems typically operate on vacuum or pressure systems that continuously load and transfer material. The advantage of a railcar conveyor system is that it allows for constant material flow at high rates and over long distances. This continuous flow helps to eliminate any blockage or obstructions by intermittently starting and stopping the material flow.
Barge Loading and Unloading Conveyor Systems
If your project consists of freights or boats to transport material, then a barge loading and unloading conveyor system is a must. This conveyor system allows you to quickly load and unload from the boat using options like power radial wheels, heavy-duty or vulcanized belts, and a conveyor system that can be raised or lowered by hydraulics. They usually come in a wide variation of sizes to fit the needs of your project, with standard belt widths ranging from 24 to 60 inches, depending on the conveyor type. When used with overland and stockpiling conveyors, you can reduce heavy equipment fuel charges and allow for the highest stockpiling height.